trijekt GAS ENGINE CONTROL
Independent of gas engine manufacturers, the trijekt gas engine control unit for the first time brings together total gas engine management in a single system, paired with easy operation and unimaginable versatility.
What makes the trijekt so unique? All actuators in the gas engine are directly controlled by the trijekt and work together as a unit on the engine. This enables completely new and previously unheard-of possibilities for load switching, control accuracy, and motor behavior in possible specialized applications. Even the strictest requirements from network operators according to VDE-AR-N 4105:18 concerning the control capabilities of the gas engines in CHP operation can be implemented more easily using this control system.
trijekt - PRODUCT DETAILS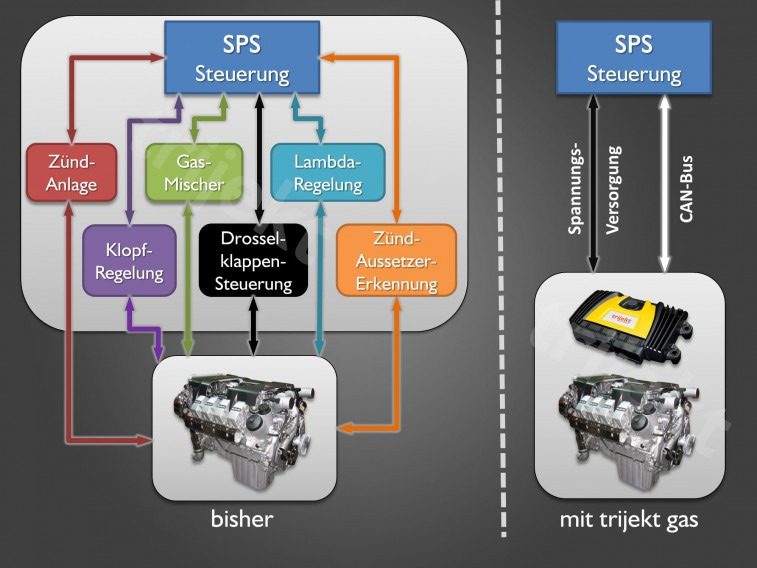 Control unit including speed/power regulator, ignition system, anti-knock control, smooth running detection

Throttle valve, gas mixer and ignition work together directly with characteristic maps

Active ignition energycontrol

Several maps can be stored (e.g. Lambda1 / lean)

Double flash memory for max. data security
Additional product features
4MB internal data logger with active logging rate

2 lambda probe inputs as standard

Direct control of the starter and gas solenoid valves

Can be converted as inductive and capacitive ignition (for Lambda1 or turbo lean)

Very simple and user-friendly operation as you only have to set parameters

No programming knowledge required